You are a seller? Here you can find the right buyer for your horse:
The function "View Requests" is only available with a premium subscription!
Do you want to use this and several other premium features?
Try ehorses Premium with our 14-day trial!
Try for free now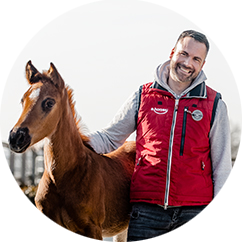 Do you need assistance with advertising?
"I love to help you!"
Felix Ortmann
Customer Care
Horse wanted? Search for horses on ehorses
.
Horse searching can turn out to be tedious, even if the internet is full of horse ads. With ehorses you have the chance to simply turn the tables and make the search for your dream horse that much easier. No matter whether you are looking for a Freizeitpferd oder Sportpferd suchen - ob Warmblut oder Kaltblut - ob Stute oder Wallach, with the ehorses horse search will be easier.
Create your horse request
Those who do not want to wait until the right offer flutters into the house can also become active themselves and place a wanted ad. A search on ehorses is the perfect way to search for a horse. Create a request with your requirements for the horse you are looking for and let our experienced sellers suggest suitable horses. Information such as breed, preferred disposition, pedigree and also size can be supplemented with much more info. For example, you are looking for a Vollblutaraber, aber nur bis zu einem bestimmten Stockmaß? Oder ein deutsches Reitpony, but it is important to you that a certain pony stallion appears in the pedigree? Then simply create your request on ehorses and have suitable horses suggested to you.
Place search ad & become active yourself on ehorses
Your search criteria and wishes are published in a request
This is only visible for our experienced ehorses sellers
You will receive personalized offers from experienced sellers
You will also learn about horses that are not yet advertised
immediately online, term ends automatically after 90 days
Browse horse searches
.
You have a stable full of horses and are looking for the right buyer? As an experienced ehorses seller, you get the chance to suggest your horse to buyers through our horse searches if it matches a request. Just browse through the requests on ehorses.
i
Copyright 1999-2023 • ehorses GmbH & Co. KG • ehorses.com - for private and commercial customers.
Buy horses and sell horses.