You still have free stables on your farm?
Advertise your stables on ehorses for free!
Advertise now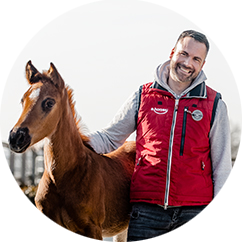 Do you need assistance with advertising?
"I love to help you!"
Felix Ortmann
Customer Care
Stables in your area
Stable free - free horse stalls & open stables
.
You are looking for a stable place, a horse stall or an open stable place for your horse? On ehorses you can offer and search for free riding facilities, open stables and pasture places.
Offer horse stable and free box
You are an equestrian facility owner yourself and still have a horse stall free? No matter whether you run a riding facility, a stud or riding school - describe your offer. And advertise your boarding places on ehorses for free. You would like to provide pasture land or an open stable? That is also possible on ehorses.
Search for stable space or open stable
You are looking for a new home for your horse? Then browse the Germany-wide ads on ehorses. You are sure to find a suitable horse stall, open stable or rearing place in your area.
.
Which horse keeping for my horse? Open stable, paddock box or pasture?
Unlike horse stalls, open stalls are much more spacious and give horses the opportunity to be kept in a group 24 hours a day. In open stable keeping, there are different types of open stalls. However, a roofed area for protection from the weather is always common. Often there are so-called feeding racks or several hayracks and a self-drinker. Horses in this horse husbandry often the opportunity to eat grass via an attached pasture also around the clock.
In pure pasture keeping, horses are also kept in a herd. However, here there is often a maximum of a pasture shelter and no protected stable area. If enough space and pasture area are available, pasture keeping is a very species-appropriate and also the most original form of horse keeping.
Commonly, however, horse stables today are still divided into boxes. In these boxes, the horses stay partly during the day, but especially at night. It is important that the box is large enough. As a rule of thumb, the size of the box should be at least twice the height of the horse at the withers squared. A good alternative to keeping only boxes are paddock boxes for horses. Here they have more space and can decide for themselves whether they want to stand outside on the paddock or inside in the box.
i
Copyright 1999-2023 • ehorses GmbH & Co. KG • ehorses.com - for private and commercial customers.
Buy horses and sell horses.